The Ragsdale family line is traceable to Godfrey Ragsdale of England who immigrated to Henrico County Virginia around 1642. He and his wife Mary were killed in the Indian Massacre of 1644. The surviving infant Godfrey II (1644-1703) was raised by neighbors. Seven generations later, the family was in Chester County, SC. Amelia Ira Ragsdale(1875-1957) daughter of Charles Henry Ragsdale (1839-1903) and Elizabeth Judith Stevenson (1842-1904) married Hal Brown Perry (1869-1929) son of Jane Curry Brown and John Madison Perry of Liberty Hill.
Amelia had a twin sister named Nancy Margaret Ragsdale, as well as twin brothers named: William Daniel and John Culp Ragsdale. Nancy Margaret married Isaac Tillman Blake, also of Chester County, before migrating to Corsicana Texas. Maggie as she was called, died on 23 October 1954 and was buried in the Dresden Cemetery, Navarro County, Texas.
They had several children, among them a daughter, Halley Ragsdale Blake who married Charles Croft. Halley was a favorite cousin of Aunt Curry Carlisle who visited each other many times. Halley remained in touch with her SC Perry cousins until her death in 2005.
John Culp Ragsdale, twin brother of Burr Harrison Ragsdale, also died in Texas and is buried in the Dresden Cemetery.

OBITUARY:

Nancy Margaret "Maggie" (Ragsdale) Blake

Jun 3, 1875 - Oct 23, 1954

Mrs. Maggie Blake Dies Saturday
Mrs. Maggie M. Blake, 79, long time Navarro County resident, died at her home, 1104 West Fourth avenue, early Saturday morning.
Funeral services will be held Sunday at 2 p.m. from the McCammon Chapel. Burial will be in the Dresden Cemetery.
The rites will be conducted by Dr. Matthew H. Arnold, minister of the Westminister Presbyterian church, of which she was a member.
A native of South Carolina, Mrs. Blake had resided in Navarro county most of her life.
Surviving are two daughters, Mrs. Charles Croft, Corsicana, and Mrs. Claude Bell, Milford; a son Dan Cunningham, fort Worth; two grandchildren; one great-grandchild; a sister, Mrs. Amelia Perry, Greensboro, N.C.; a brother, J. C. Ragsdale, Dresden, and other relatives.
Pallbearers will be John Sullivan, Tom Farmer, F. T. Lindsey, W. E. Knight, W. E. Woodall and C. L. Terry.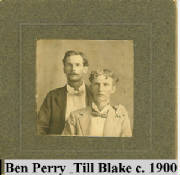 Maggie's husband I. Tillman Blake